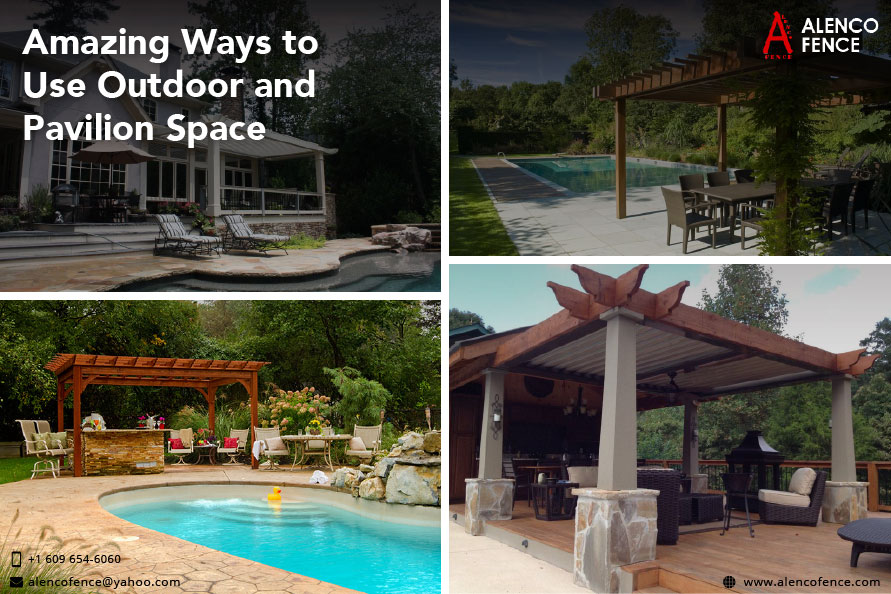 Is it your dream to build your own Italian renaissance-inspired outdoor? Then, all you need to do is to take your creative ideas to an expert to help you build the most unique and customizable pergolas and pavilions.
Pergolas are available in a variety of designs, shapes, colors and patterns and used extensively to aesthetically enhance the outdoor by giving an extended living area.
Pergolas help complete the pavilion-look and transform boring outdoors into relaxation lounges. Both pergola and pavilion looks are quite common in commercial properties like hotels, spas and resorts. But with a little bit of creative drive and some well-thought plan that sync with the budget, your outdoor space can be decorated to match the European architectural structures.
Here is how make the best of your pavilion and outdoor space:
Create Well-shaded Area by the Garden or Pool:

Imagine a cool, enclosed space that also doubles up as a changing room or nursery to house some of the pleasant blooms. Pergola canopy that is retractable helps you create a smart space that provides some roof and protection from rains and sunlight.

Build Long Walkways and Corridors

: Pergola installations can help create an impression of a lengthy spaces if they are used as corridors on walkways. Pergolas in these areas can be customized with the color, design and patterns that match rest of the outdoor.

Create an Enclosed Dance Floor by the Pool

: Pergolas helps make the brilliant usage of the pool area and creating a dance floor around it. Installing pergolas with waterproof roof and canopy will ensure that the gadgets, lighting and accessories on the insides are protected from rain and assures a comfortable and private space to host parties.

Build Outdoor Light Room

: You can now take your outdoor space to another level with interesting Pergola kits that can be installed with the help expert professionals who can also provide inputs and support for adding lights and candles. Pergolas with modern pillar designs and spaces on the roof can help you with DIY projects to hang lights and insert sockets to fix chandeliers.

Vertical Gardens

: Vertical gardens are the most convenient ideas to implement with the help of pergolas. Many fencing and outdoor design companies offer DIY pergola kits to fix in the garden, decorate with hanging pots, vines and creepers. Vertical gardens make judicious use of the space and create green canopies even in tiny yard and pavilions.

Dining Space inside Pavilions

; Pavilions and pergolas can help you make a dining area around the garden or by pool that would be ideal to host the Sunday brunches or even throw parties. The top covering protects the furniture and can be adjusted to insert curtain holders and retractable coverings or doors so that you can enjoy dining in the yard or by the pool without being interrupted by the rain, sun and wind.
Got more ideas to decorate and revamp your outdoor space? Let us know by leaving a comment below.  Alenco is a premier fence installation company and we are experts at pergola installation in NJ.