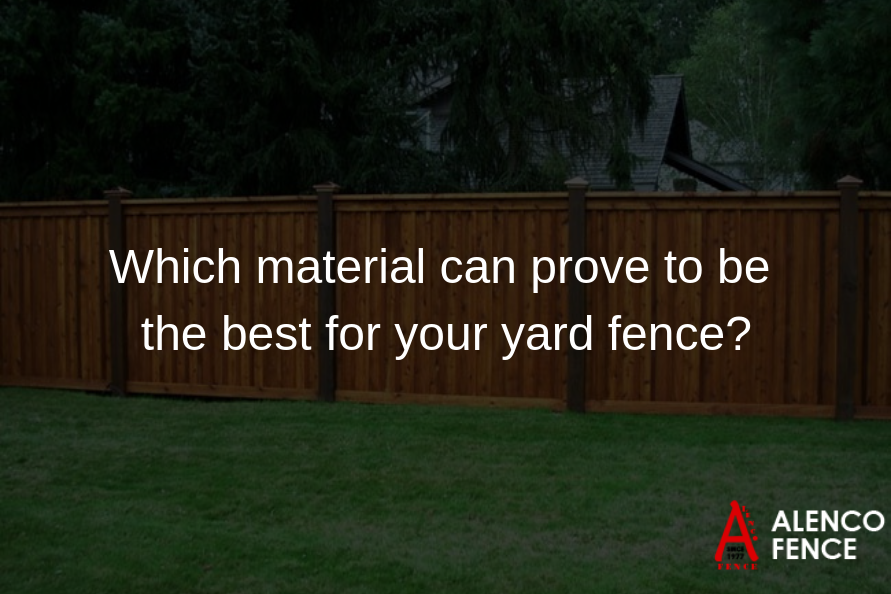 The house on canvas would remain incomplete without the fence surrounding the home. There's no doubt that your property's value would increase due to a well-constructed fence. It acts as an added layer when it comes to security and privacy. In some areas, barriers become a necessity due to their ability to serve as a break between crowded houses.
Most preferred types
Selecting one from different types of fences can be confusing. Before choosing the type and material, you need to consider the primary reasons behind your decision to install the fence. Short fences in the front and backyard can keep your pets and kids contained. However, if you do not wish to indulge in gossip, share recipes and jokes with your neighbours, you should consider opting for tall wood privacy fences.
Wood, chain link, vinyl, aluminium are the most popular types of fencing materials for front and backyard.
Vinyl for that warm and welcoming feeling
Vinyl costs more compared to other materials, especially, if you wish to opt for Bufftech or Illusions. However, let's not forget that vinyl can profoundly transform the property's look.
Besides the cost of fence panels, the installation charges for Vinyl fences are on the higher side compared to other options. Because concrete is used to secure the posts.
Experts recommend homeowners should opt for fence inspection annually to check termites, fungus damages. Applying a weather seal on the wood once in a year is necessary to increase its life.
Chain link 'hurricane' fencing for security
Chain link fencing may not offer much of curb appeal and privacy but it is economical, pet-friendly, and best when it comes to security. The installation cost is less than wood, and the fence can last for more than a decade. To give a pinch of privacy, homeowners often place privacy slats or grow vines, flowers, or shrubbery on the fence.
Vinyl fences (white picket fence)
Often considered as an alternative to metal rail and wood fences, Vinyl fencing is preferred by homeowners due to its durability and long life. Vinyl does not need annual maintenance and can be cleaned with soapy water. The material and installation cost for such fencing is a bit higher than chain and wooden fence.
Aluminum fencing looks attractive
Aluminum fencing is yet another type that can give a beautiful look to the house. But it scores less when it comes to security. Aluminum fences do not need maintenance. The material is durable and long-lasting with an affordable installation. It can be suitable for areas that have humid, damp climatic conditions. But, as mentioned earlier, it cannot be a substitute for a privacy fence.
Property owners often think of installing or replacing fences themselves. Later, the physical demands, time constraints, and mistakes force them to rethink. It is always advisable to let one of the best fence installation companies in the city do the job from day one. Professionals would also check the local codes for fencing and other compliance issues.