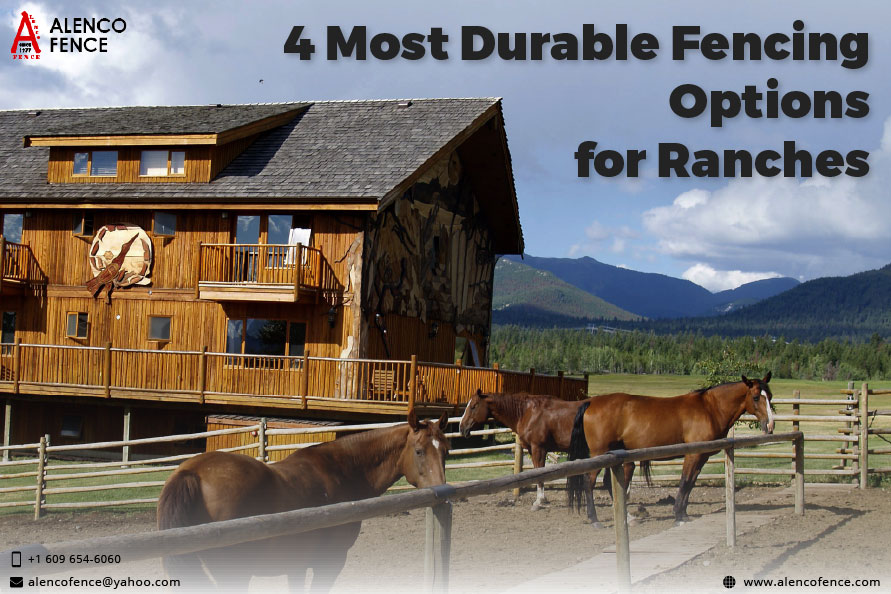 Installing a fence is one of the biggest concerns for ranch owners as its budget, material quality and strength determine the durability and function in keeping the area secure from the outsiders and predators. With an onslaught of fence installation companies in South Jersey and many parts of NJ state, it is sometimes confusing to decide on the kind of fence that helps ranch owners rest their worries. Before making decision on the selection of yard fencing and types of fences for the ranch, below are some of the factors to keep in mind:
Area dimensions: This information is useful in planning on the budget and cost aspects before selecting the fencing material and style that would best fit your requirements.
Safety Factors: Fences and boundaries in farm lands and ranches are laid out to keep predators away from live stock and cultivation areas. In the Garden State of NJ, it is not rare to find deers, bears, racoons and other wild animals entering property and causing damage to crop and cultivation. If your ranch has live-stock and other animals, it is always better to look for additional security layers like electric gate fence, sturdy chain links and metal fences.
Repairs and Maintenance: It is easy to be influenced into installing fences of styles and design that seem appealing and attractive. But the replacement, maintenance and damage prevention can be a very big ordeal for ranch owners. After all, one may not like to find the paint wearing-off, rust and moisture coating on the fence which would be difficult to manage and repair.
Upon making thorough evaluation on the above factors, ranch owners can select from below options for sturdy fences:
Chain Links: Chain link fences made of tensile metals are great for ranches that keep cattle, live stock and animals from escaping. Close chain links on the fence also prevent injury and damage to animals by leaving too little space for thrusting or getting stuck. These fences last for about two to three decades and require maintenance during cold seasons.
Vinyl Fence: Vinyl fence rails with different designs, styles and color combinations compliment the exterior of the ranches. The picket styles with close railings and semi-privacy styles along with sturdy gate hardware come with a lifetime of warranty.
Electric Fencing: They are powered with mild doses of current that condition live-stock and cattle to not cross boundaries and keep at bay wild animals and pests from entering and rummaging the premises. These fences can be installed for permanent or temporary basis, depending on the needs and last longer than non-electrically powered fences.
Aluminium Fences: Aluminium fences are mostly maintenance-free and used in ornamental fencing and lining home, pools and landscapes. They are available in variety of designs, colors and styles. These fences with narrow spaces in between the railings can be installed for ranches due to their durability and versatility.
Alenco is leading provider of yard fencing services that exclusively caters to the needs of residential properties, ranches and farm lands in NJ area. If you have any questions on fence repair in NJ, portable fences and aluminium fence styles, contact our experts today.