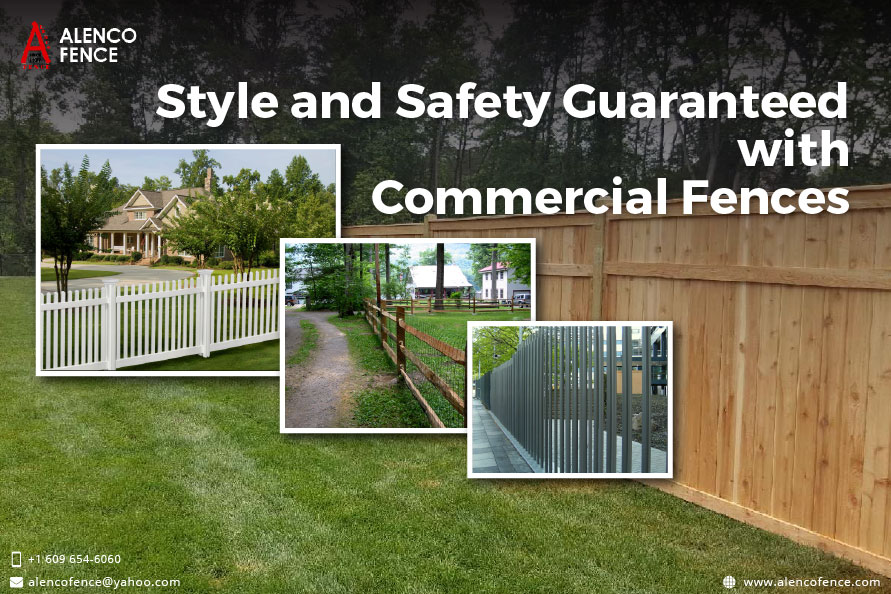 The problem that most homeowners come across is finding a middle ground between safety and style for their property. Opting for stylish patterns and installations to enhance the outdoor facilities like swimming pool, gardens and lounge requires planning and adjustments to ensure compliance to local zoning and housing community laws that prevail in the county, city or countryside. Moreover, with safety being the foremost priority, most homeowners are left with very limited opportunity to execute their creative plans to beautify and decorate their property.
Fencing is one area that allows homeowners have the best of both—safety and style.
If you own a residential property in New Jersey (NJ), be wary of the strict fencing rules and seek the consent of your neighbors, local housing communities or any authority to make sure your plans are foiled, leaving you with hefty fines and legal liabilities to deal with. Once the law, your neighbors and the housing community is onboard, its advised to approach any reputed fence company in South Jersey (depending on your location) bring your creative ideas and plans into life and create a secure and stylish outdoor.
Before that there are two points to keep in mind while installing commercial fences for your residential property:
Unattractive Outdoors is a Turn-off in Real-Estate

: Sometimes there is a possibility to go overboard while assuring safety. Unattractive and outdated fence gates not only reduce the overall appearance of the property but also affect you financially. Antiquated designs of the outdoors are often found undesirable and bring down the resale value of the property. Therefore, its better to stay relevant to times with durable, easy-to-install and maintain fences made of steel, wooden, chain link and vinyl that are available in a variety of designs and dimensions, depending on the requirement.

Installation Should Work-out as Long-term Investment:

Installation of fence or gate on property is mostly a one-time project. Meaning, the commercial fences should guarantee the owners the protection against external disturbances, intruders and wild animals in the long run with limited expenses on its maintenance, cleaning, and repairs. The sturdiness and durable features of the material used in commercial fences make the fencing project cost-effective, keeping at bay risk of damage and intrusion.
Below are four kinds of fences that help balance between safety and style for your property:
Aluminum Fences

: Easy maintenance is one of the striking benefits of aluminum fences and most property owners agree on this. Aluminum fences are extensively sought for lining personal property, swimming pools, garden, yard and other household outdoor settings for its intrinsic rust-free, stain-free and availability in a variety of designs and colors.  They are affordable, last longer and require less attention to cleaning and maintenance.

Wood Fences

: No other fencing material can compete with the rustic charm of wood fences that come in multiple designs, patterns, colors, and shapes. Many companies offering commercial and household fence supply in NJ have taken steps forward to increase the durability of wood fences by offering them with water-proof coatings and modern designs based on the requirements of the owners.

Vinyl Fences

: The most commonly sought vinyl or PVC fences are made of thick plastic that is resistant to damage from environmental factors and can last a lifetime. Owners can rule out breakage of fences and choose modern, cutting-edge designs that match the topography, size, and kind of property they own. Vinyl fences have been in vogue for some time now and can be used for lining residential, commercial and agricultural lands.

Post and Rail Fences

: The old English charm of a rail fence is apt for farmhouses and property used for sheltering animals, livestock and horses. They are stylish and require the basic materials like wood, posts and any material that can be drawn into rails. The performance and safety depend on the kind of material chosen and its make.  
Alenco is renowned distributor and supplier of commercial and residential fences in NJ. Visit site for more details.