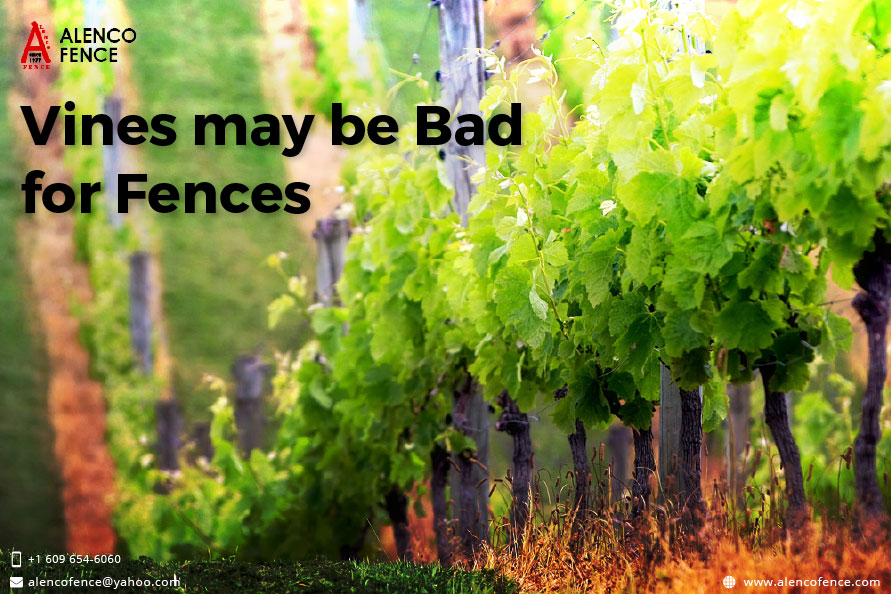 Vines climbing in the fences of your garden or backyard add a Venetian charm. Unfortunately, there are weeds and dense undergrowth or the risk of damage to fences by insects that need to be dealt with.
Vines and creepers by nature require basic structures to grow vertically or horizontally to receive maximum sun exposure. In the process of forming links to support its growth across a large surface area, vines either hold on to objects too rigidly or pull them down. In case your garden and outdoor area are fenced with wooden materials, don't be surprised to find fungus, creepy crawlies and wood-eating worms infesting its surface. These damages would be plenty in the long run given how quickly it spreads, causing cracks and breakages.
Below are some of the do's and don't that may help you plan and ensure your fences against the mildew and overgrowth while also keeping your garden beautiful with vines and tender climbers:
Always Consult the Experts: Its better to approach professional fence installation company in NJ to educate oneself about the right kind of fences to support your gardening ideas. DIY projects may work but, ignorance on the material's resistance and durability features can be costly in the long run. It is also wise to take advice from your gardener about maintenance and weigh out the options to make sure both your gardening and fencing goals are sorted.  
Choose Only Fence-friendly Vines: There are several kinds that bloom bright and fragrant flowers and beautify the garden with pleasant aroma but officially, some of them are bad for the fences. Hydrangea, wintercreeper, Japanese Honeysuckle, English Ivy and other moisture-locking vines and climbers are best to avoided if you prefer the fences to last longer.  
Cutting and Vine-killing Chemicals: To avoid dense growth of climbers and vines, its better to snip off the excess growth or spraying vine-killing chemicals to avoid the invasive vine species in damaging the rest of your garden.
Choose Water and Damage-resistance Fences: Fences made of PVC or vinyl coating are least susceptible to changes or damages due to weather and environment changes. Vinyl also makes it easy to wipe away the dirt on the surface without staining or soaking the wood underneath the coating with moisture inviting bugs and algae-like growth.
Use Metal Fences for Thorny and Exotic Vines: Sometimes, wooden fences can bend under the weight of vines and climbers. Aluminium fences are durable and stronger to withstand the weight. They provide the right platform for creepers and vines to flourish without the risk of rusting or damage due to moisture.  The aluminium fences are best to support thorny creepers and can also be used as a barrier to keep away intruders and wild animals from entering the premises.
Alenco is a provider and distributor of chain link fence, aluminium fence, and modern wooden fences. If you wish to know more about fence supply in NJ or need our experts to answer your fencing needs, reach us today!